Spring break is coming up and I know lots of 2018 Grads are probably planning on taking advantage of the warmer weather and taking their Senior photos! Even though I don't photograph Seniors as a specialty I have this style guide. I thought I would share it publicly, because I have yet to use it! (Shows how often I shoot graduates, eek!)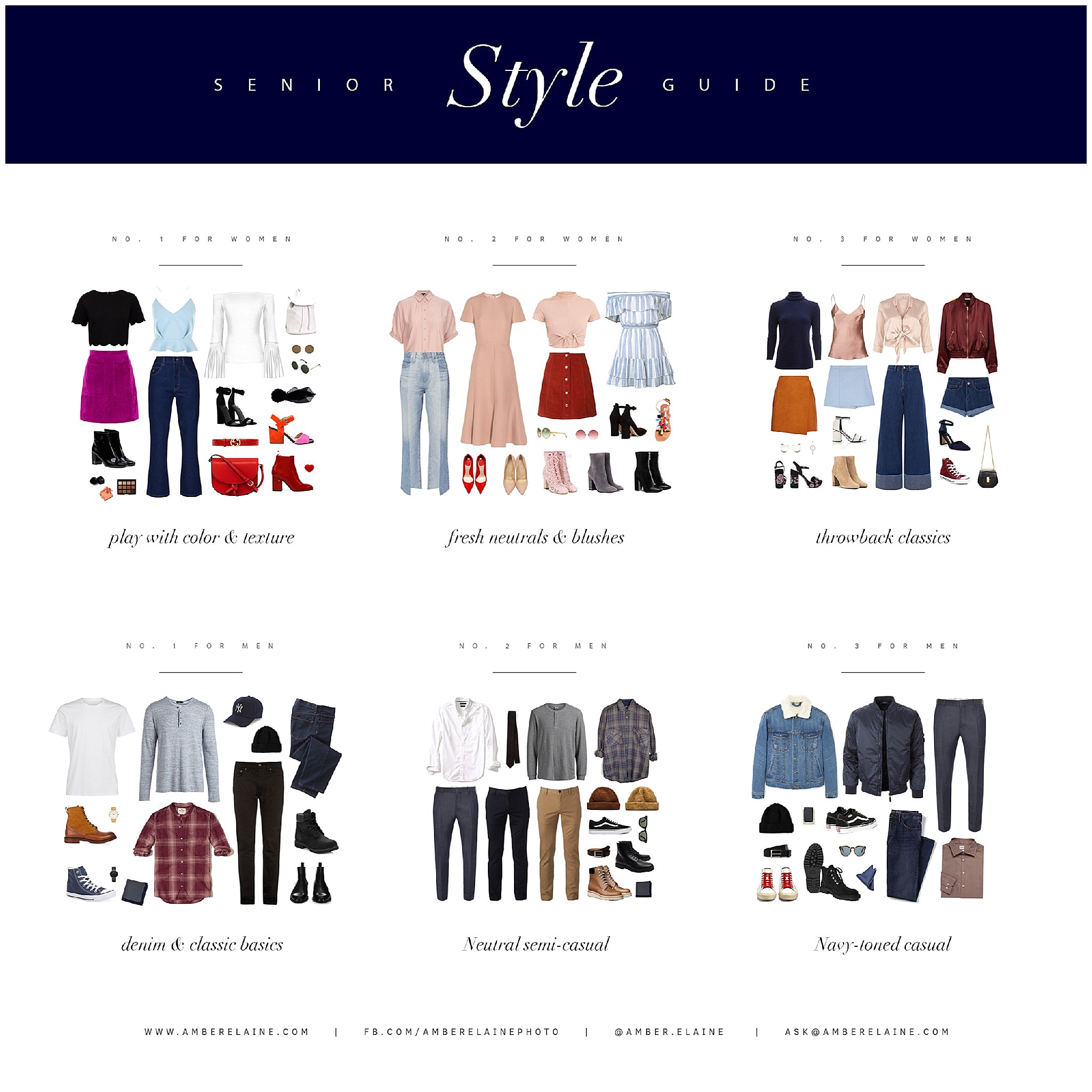 No. 1
Women
This style guide plays with color and texture. Suedes, satins, and folded pleats are all gorgeous on camera. Mix in fun patent leather boots or multi-colored heels for extra fun. The black, white, pink, and red color palette fits any season and flatters every body type.
Men
Follow this style guide for a classic cool senior portrait. Pair dark denim or navy slacks with a simple white tee, flannel, or henley. Each outfit works perfectly with sneakers or boots.
No. 2
Women
This second style guide features this season's fresh neutral: blush! This light peachy blush goes well with every skin tone. Find it in a casual button up to pair with denim, or go slightly more sophisticated in a fitted dress. For girls who love skirts and dresses, go casual with pretty off-the-shoulder dress or a cropped tee and suede skirt. These looks pair well with pointed toe pumps or round-toe booties.
Men
Dress your senior portrait up or down with our semi-casual style guide. Opt for a simple white button up or a patterned flannel, dress pants or casual slacks, and a skinny tie or a knitted beanie. Finish the look off with lace up boots or a pair of low skate Vans. Keep the colors neutral and these looks will photograph effortlessly.
No. 3
Women
This style guide is the "throwback" classics guide. From the super wide-leg jeans to the satin bomber to the suede mini, each separate is a classic cut with a fun retro heritage. Pair your classic pieces in retro colors with sneakers, boots, or heels. These outfits are extra photogenic.
Men
The navy toned style guide is perfect for the senior who wants to add a little style to their portrait without looking "done up." Opt for a bomber or a shearling collar denim jacket with fitted navy slacks. A button up or a simple tee works great with this outfit.